Blog Archive

Recent Posts
Blog
March 7, 2013 by ickydime
It has been a very long time in the making but we are extremely excited to announce that Dojo Danger is now available for download!
Dojo Danger is a frantically fun physics-based strategy game combining non-stop action with fun-to-solve challenges. It offers 100 hand-crafted single player levels, over 30 collectible characters, and endless multiplayer competition for all ages.
Check out the trailer: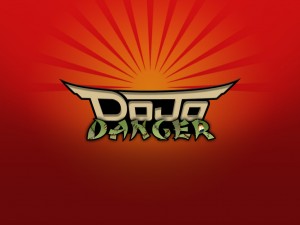 December 13, 2012 by ickydime
In celebration of our upcoming Dojo Danger title we decided to do a new costume in Baby Monkey. Check it out!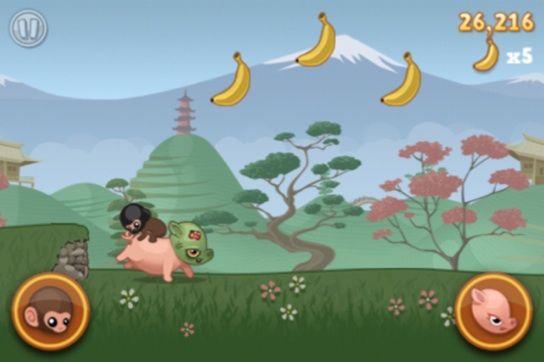 Side note: We also removed OpenFeint from the game as their services are shutting down tomorrow (Dec 14th). If you haven't updated, please do so now to avoid any issues!
December 10, 2012 by ickydime
Kihon's latest creation is now available for download in the App store. With both free and paid versions. (https://itunes.apple.com/us/app/sketchphrase-free/id537789715).
What is SketchPhrase? Its a drawing telephone game similar to the classic pencil and paper versions 'Chinese Whispers' or more endearingly 'Eat Poop You Cat.'  Check out the trailer here (thanks Parry Gripp!).
The game is all about interpretation and miscommunication. A group of nine players alternate drawing and writing to create a hilarious comic strip.  It begins with the first player writing a phrase, any phrase.  Example: "Why did the chicken cross the road?".
This phrase is sent to player 2 who must draw the phrase: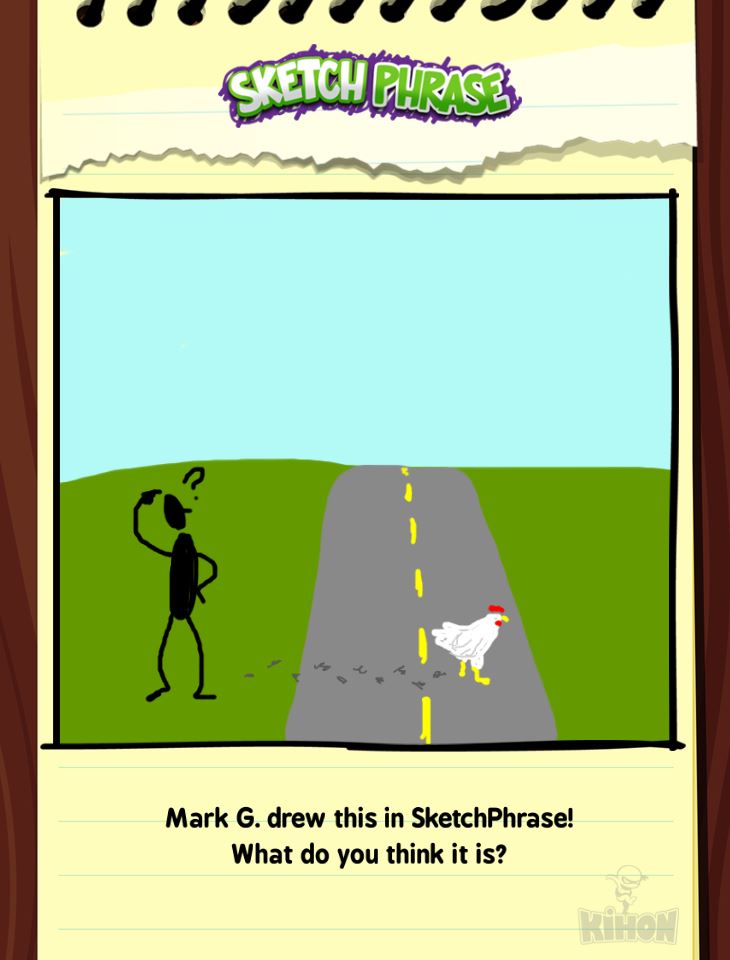 The 3rd player only sees this drawing and must guess what it is. Perhaps they guess 'Confused man watches Rooster dodge traffic".  The beauty is there are no wrong answers and it does not require you to be a good artist to play. Its the misinterpretation that is what is so much fun.  Check out this sequence for example:
Sunny Side up… clearly not 'Your Brain on Drugs' but its perfect all the same as each turn the story will evolve.  Here is what a completed game looks like: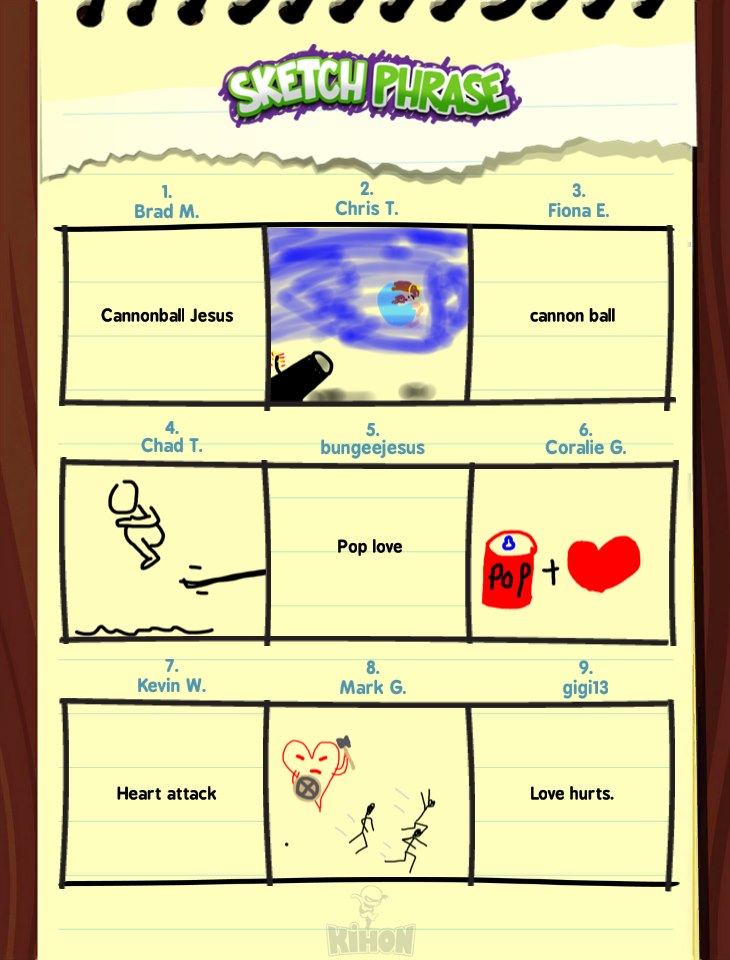 As you can see, it doesn't take a great artist to make a funny game (I am making fun of myself here… Mark G.  Stick figures all the way!

.
The end comic strip is sent to all participating players to enjoy. You can vote on your favorite panels and share the results with your friends.  Want some more examples? Check out our facebook page for some of the games of the day.
Still have questions? Jump into the game and see for yourself!
April 2, 2012 by Sensei
Like most iOS developers, I've expressed my fair share of rants on the App Store's discovery woes.  I remain hopeful that their acquisition of Chomp could lead to some very interesting/rewarding solutions.  In the meantime, however, I'd like to toss out one idea into the mixer that would not require any UI overhauls and I believe would make a drastic difference.
Its a simple feature request:  I would like to be able to hide apps from the results.  Currently, when I load up the top 25 I'd say over 90% of the results are things I am not interested in.  Similar to when I check my mail, I would like to be able to do a swipe gesture on apps in the list and have a red hide button appear over their title.  Clicking on the hide button would have a similar result to archiving a read e-mail.  The email will no longer appear in my inbox but I can still find it if I search for it.  In the case of apps, anything I hide would not appear in my top 25, but I could still find them if I searched.  Thus, I could hide all of the apps I own (I believe gizmodo suggested filtering apps you own from the list) and then I could also hide apps I see day in and day out that I know I will never buy.
By adding this simple feature the Top 25 quickly becomes MY top 25.  I will be exposed to many more apps and thus will most likely be making more purchases.  Apple will most likely see more diversity and healthier numbers in their top 100 as a result.
November 28, 2011 by ickydime
Baby Monkey shirts are up on Zazzle just in time for Cyber Monday.  Check them out here:  http://www.zazzle.com/kihongames/
We also threw our logo on some shirts just for kicks.  If you have any requests, feel free to post them in the comments or get in touch with us on our Facebook page and we would be happy to help!
November 18, 2011 by ickydime
Baby Monkey (Going Backwards on a Pig) is going free for a limited time starting this Saturday, Nov. 19th.  Not only are we giving away pure joy, but we are also giving players 1,500 Monkey Bucks if they have five GameCenter friends in the leaderboard.  In the whimsical words of Parry, 'The world has truly gone insane'.
To celebrate this momentous occasion we will be giving away a plethora of 'Official' Baby Monkey T-Shirts.  [Pictured Below]  We will keep adding new ways to enter to this page, our Facebook page, and of course Twitter.  So please check back throughout the weekend!
Ways to Enter (enter as many drawings as you like):
First Drawing: To enter the drawing, 'Like Baby Monkey' on Facebook! It is that simple. Already like us? No worries! We are giving the winner 2 shirts. Convince your friends so that they can get a shirt and hopefully will be nice enough to give you the second one!  Everyone who likes us between NOW and tonight (Nov. 18th) at Midnight PST will automatically be entered to win in this drawing.
Second Drawing: Visit Kihon's Facebook Page (not to be confused to Baby Monkey's) and post on Kihon's wall which Parry Gripp video you would like to see as a video game! Again, we will give out 2 shirts to the winner of the drawing.  Encourage your friends to post as well!  All wall posts need to be made by Midnight PST.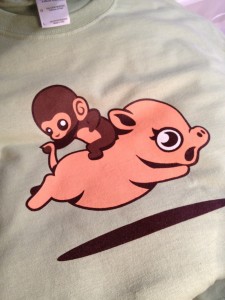 More ways to enter will be announced throughout the weekend!
November 17, 2011 by ickydime
Thanks to everyone for all of the feedback on our Halloween release.  We have listened and made the proper improvements in our latest update which was released earlier this evening.
Please keep the feedback coming by commenting on our Facebook wall and interacting with us on twitter.
1.2.1 Release Notes:
- Critical bug fixes for crashes reported in 1.2.
- Super Monkey costume! (Grants 50% more banana points AND allows you to control the monkey and pig independently.)
- UI Improvements. We heard your feedback and cut down on the popups.
- The original background has been restored. If you want to continue enjoying the spooky scenery you will need to equip the Halloween costume.
- Invite 5 friends to Baby Monkey and connect with them in Game Center to earn free Monkey Bucks!
- 'Offerwall' support to earn free Monkey Bucks.
- 2 new Game Center Achievements.
Remaining Issues:
- We apologize for the disappearance of the iCade support. We have fixed the problem but it did not make this build.  It will be in our December update.
- If you know of any other issues, please let us know!
November 4, 2011 by ickydime
Its never too late to celebrate!  Kihon is proud to announce a large Halloween update to Baby Monkey (Going Backwards on a Pig).
New tricks and treats for this release include:
- Completely new art to celebrate Halloween! (screen shots below)
- New areas to explore and haunted obstacles to avoid.
- Costumes for our favorite Monkey and Pig duo!
- Angel Wings that will allow you to extend your run.
- Monkey Bucks scattered throughout the levels to unlock costumes and Angel Wings (they can also be gained through in-app purchases).
- A storefront to manage your inventory.
- OpenFeint support.
- 9 New Achievements.